Your Invisalign clear aligners are removable so you don't need to wear them all of the time. Here our orthodontists in Burnaby discuss how long you need to wear your aligners and why it's critical to your treatment.
The Invisalign system consists of a series of transparent aligners that are individually made to fit your teeth. And, because they are transparent the majority of people will probably have a hard time seeing them while you have them on. You can also take them out to eat all of the foods you love and keep brushing your teeth as normal.
The Length of Your Treatment
Your orthodontist will determine the duration of your Invisalign treatment based on the misalignment of your teeth. So the only way to know the exact length of your treatment is to visit your orthodontist.
Even though you take your aligners out, it's imperative not to abuse the privilege. Having your aligners out for too long will have negative consequences on the progress of your treatment. The less time you have your aligners in for, the longer your Invisalign treatment will be.
Your treatment can't progress unless you wear your aligners, so be sure to follow the instructions given to you by your orthodontist and attend regular checkups.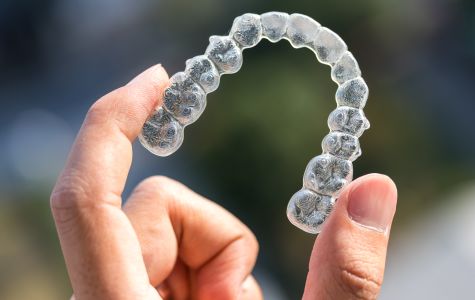 Wear Time a Day
You must wear your Invisalign aligners for 20 to 22 hours per day. Regardless of the duration of your treatment, you will get your best results by keeping them in your mouth as long as possible every day. 
You are able to remove your aligners to eat, drink, brush, and floss, but don't overdo it and remember to wear them for at least 20 hours every day. 
Wear Time Per Aligner
You will get a set of aligners - which could come with as few as 12 or as many as 48. In most cases, patients will wear each aligner for about two weeks. The idea is that you'll wear each aligner until your teeth shift to the next stage of treatment. 
If your treatment has progressed in the two-week time frame, you are able to start wearing the next aligner in your set. If not, you may need to wear the current one a bit longer.
 Contact our Burnaby orthodontists today with any questions you have about treatment with Invisalign clear aligners.